Don't miss Sunday worship with Pastor James Mash. Sunday School 10am & Morning Service 11am.
JOIN US FOR WED NIGHT SMALL GROUP FOR ALL AGES ... 7PM
Do Justice, love mercy and walk humbly with God
Our Mission
To please God in all that we do by doing that which God requires of us, " to do justly, love Mercy, and to walk humbly with thy God." (Micah 6:8), following the teachings of Jesus Christ to "love the Lord God with all our heart with all our soul and with all our mind" and "to love our neighbor as ourselves." (Matthew 22:37 & 39)
Do justly or act rightly in our actions, we work in partnership with others in our local community to help those in need and to make our collective voices heard.
We love Mercy by loving others and following the example of Jesus Christ, who loved us and gave himself for us.
We strive to walk humbly with our God and with each other, as we seek to reach the lost for Christ, to grow spiritually, and to make a difference in our community, all to please God and bring glory to Him.
Our Motto
"Loving God and Loving each other"
Our Core Values
"Prepare with prayer, Minister with excellence, Expect results."
***INTRODUCING OUR PASTOR**
James Mash comes from Cairo, Georgia with a heart to disciple the church and reach the lost and hurting. He desires to be a vessel that God can use to pour into the church as they continue to grow and mature. James also has a longing to reach out to the lost and hurting by shining the light of Jesus for those navigating the stormy seas of this life.
You may directly contact Pastor James by calling 1-229-221-8951
Scripture of the week:
"Behold, the Lamb of God, who takes away the sin of the world!"          ~John 1:29
A WORD FROM PASTOR JAMES
"Do you have family and friends that are not saved? We all have this same concern. Maybe you have tried to witness to them but with no results. What can one person do about this dilemma? Focus on allowing the Lord to work in you before He will work through you. Be encouraged because you can make a difference in other people's lives."
Thought for the week: Need home improvements? Bring your family to church.
**Taking food donations for Backpack buddies**
Be sure to checkout the media/info center on Sunday mornings. There you will find news, handouts, things to share, devotionals, and more.
Download our Church App, Join our FB Group, Subscribe to our Youtube Channel!
SSBC NEWSLETTER WILL GO OUT VIA EMAIL ON THE FIRST OF EVERY MONTH. PLEASE GET KRISTY YOUR EMAIL TO BE ADDED TO THIS LIST- LETTER INCLUDES IMPORTANT INFO AND UPDATED PRAYER REQUESTS. WE ALSO SEND OUT FLYERS WEEKLY.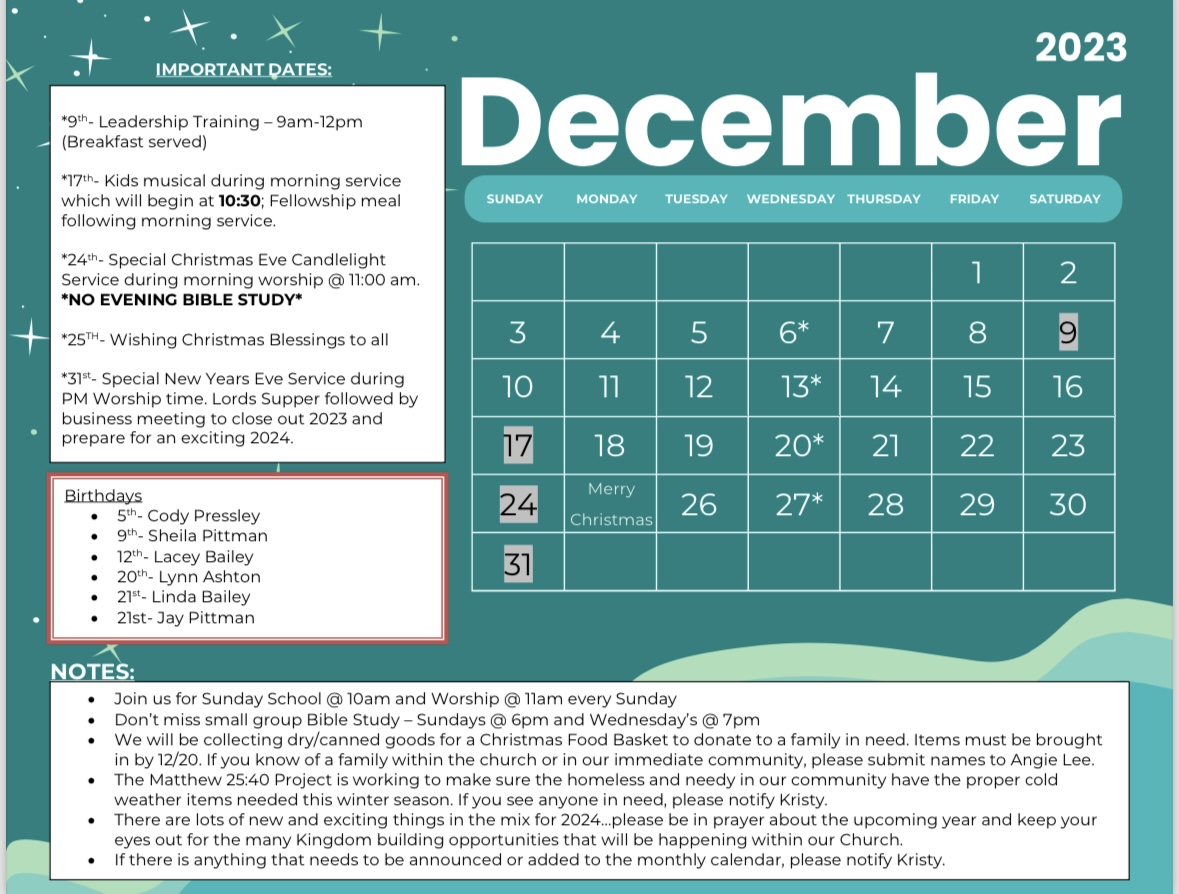 COME AND SEE WHAT GOD HAS DONE: HE IS AWESOME IN HIS DEEDS TOWARD THE CHILDREN OF MAN.   ~PSALM 66:5
Page Views: 4244