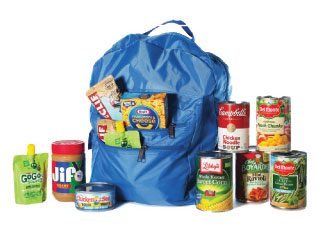 For some of our less fortunate children in suwannee county schools, the school lunches may be the only meal they get. Many of these children go hungry over the weekend. We pack and distribute 15 backpacks to one of our local schools every thursday. Each backpack will be picked up by a child who is always eager for thursday to come. Please consider donating the following items (in bundles of 15 or more).
Can food with tabs, peanut butter, jellies, crackers, individual mac and cheese cups, ramen noodles, fruit cups, jello cups, puddings, poptarts, cereals, granola bars, fruit snacks, juice boxes, gatorades, individual juice bottles. Any food item a kid might be able to prepare without adult supervision.
Personal care items such as toothbrush, toothpaste, soap/bodywash, etc.
Operation Christmas Child delivers great joy and the Good News of Jesus Christ to children in need around the world through gift-filled shoeboxes. Each box packed full of quality toys, school supplies, and personal care items becomes a tangible expression of God's immense love for the child. For many, it is their first gift ever! Delivered by our local church partners, shoebox gifts provide an opportunity to present the Gospel to boys and girls in a clear, child-friendly way.
Our Church sets a goal of 200-250 shoe boxes each year...please consider donating the items for the boxes we pack or packing a box yourself and dropping off at the church during collection week.
Our children also have their own mission throughout the year where they collect pocket change and dollars from the congregation to help pay the postage of the boxes we pack. (10$ per box).
Whether it's providing clean diapers to a newborn baby, food for a hungry child, safety for an abused child, or foster or adoptive homes to children in crisis, we work to share with children who have been abandoned, neglected or abused the healing love of Jesus.
As we reflect on all the years we have been able to help children with thankfulness and awe, we look forward to a future filled with hope for every child in need!
Will you join the cause and become a part of our mission to help One More Child?