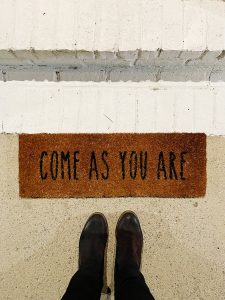 At Suwannee Station Baptist Church, we're always excited to welcome new friends. We hope you'll join us for service, and we want to make your visit as comfortable as possible. Here's what you can expect when you come to our 10:00 am Sunday school or our 11:00 am worship service.
Our church is located at 3289 101st Lane, and parking is located in front of the church. If you have mobility restrictions, feel free to use one of the handicap parking spots next to the santuary on the concrete pad. We like to keep them free for people who need assistance.
Please don't worry about what you'll wear to church, for we truly believe people should come to God as they are. You don't need to dress up to get his approval--that comes through Jesus' sacrifice. Once you walk in the doors, you'll see that the congregation has all types of people in all kinds of dress.
For 10:00 am Sunday school
There are classes for all ages. Children/Youth classes as well the senior adult class is located in the fellowship hall. As you enter the building you will find the directors office as the first door on the left. Our Sunday School director, Jacob Pittman, can direct you to the appropriate classroom. The adult class is held in the main sanctuary and starts off with prayer requests at 9:45am and is led by Deacon Chris Lee.
For the 11:00 am Worship Service
When you walk into the Sanctuary, find one of our greeters and introduce yourself. They're usually stationed at the doors or in the vestibule, and they'll show you where everything is. They'll help you find the nursery, if you have small children who will not sit in the service. Our greeters can also point you to the restrooms, sanctuary and fellowship area. If you have any questions about the service itself, the greeters are able to provide helpful answers. During the service, you will see our children collecting pocket change in red buckets. This is their mission field, they collect change to pay for the postage on the Operation Christmas Child shoeboxes our church sends around the world to spread the gospel each year. Please make yourself at home. We love to love on Jesus and invite you to clap your hands, shout amen, and join us at the altar in prayer! In this church you are never alone.
Be sure to hang around after the service and get to know our congregation. You'll have a chance to meet our pastor and many other people in the church. We'd also love to get to know you so you're a familiar face the next time you come.
For the 6:00pm Bible Study on Sundays
We all gather in the sanctuary for an in depth study of the Word. Be sure to bring your note taking supplies as there's bound to be things you will want to remember! This study is a casual gathering and led by Pastor James.
For the 7:00pm Bible Study on Wed nights
All ages gather in the sanctuary for a time of worship in song. The youth and their leaders are then dismissed to go next door for their class and fellowship time. The adults then dive deep into the word once more in another study led by Pastor James.